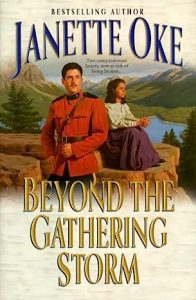 Beyond the Gathering Storm by Janette Oke
Book #5 of 6 in the Canadian West Series
As a youth, Henry had been rescued from terrible circumstances by the Delaneys, and he has grown into a young man of character and faith. Henry has followed his father into the RCMP, where some of his duties haunt him–like the young widow and baby boy he longs to help.
Some years after Henry was adopted, Christine joined the family. Now moving to the city to find work, she's determined to follow in the faithful footsteps of her parents and beloved older brother. Her employer's son soon wins her heart and the promise of her hand, and both compassionate young hearts are now at risk to be broken…
The 1st Reads Book Club will discuss this title on Wednesday, August 2, 2023, at 2 pm at the Macks Creek Library. The 1st Reads Book Club meets on the first Wednesday of each month at 2 pm.
This title is available from: Missouri Evergreen Card Catalog, Missouri Libraries 2 Go & Libby, and hoopla Digital.