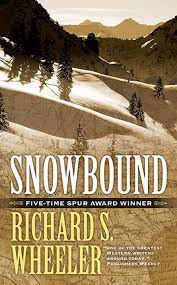 In this powerful biographical novel, Richard S. Wheeler–winner of the Owen Wister Lifetime Achievement Award and five Spur Awards–tells the amazing tale of American explorer and hero John Fremont and his attempt to find a railway route to the west along the 38th parallel.
Trapped in the snowbound Colorado mountains, Fremont must fight his way out. He battles the frigid elements in a harrowing journey over the backbone of the continent. In this tale of desperate danger and fierce courage, Wheeler presents the reader with a survival saga of excellence- a struggle of man against man, man against nature, man against himself- and a novel you will never forget. 
Big Niangua book club will discuss this title on Wednesday, June 28, at 12:30 pm at the Camdenton Library. The Big Niangua book club meets on the fourth Wednesday of each month at the Camdenton Library at 12:30 pm.
Copies of this title are available through the Missouri Evergreen Card Catalog.