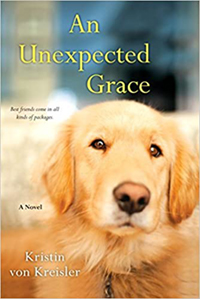 An Unexpected Grace by Kristin von Keisler
In this uplifting novel, a woman recovering from trauma finds compassion and connection with a rescue dog as they help each other overcome fear.
Lila Elliot knows she's lucky to be alive. A shooting rampage at her office left several colleagues dead and others seriously wounded. Though Lila's injuries will heal in time, she's having trouble moving past her fear and anger. Being drafted into caring for Grace – a shaggy, formerly abused golden retriever – only adds to her stress. Lila has been terrified of dogs since childhood. But Grace, like Lila, needs time and space to recover.
Grace keeps her distance, sensing Lila's wariness, and only perks up for Adam, the neighbor who rescued her. But as an accomplished artist, Lila begins to see the beauty in Grace's wisps of fur and haunted eyes. Each of them has suffered through no fault of her own. And in helping Grace trust, Lila begins to develop the courage she needs to do the same.
The Big Niangua Book Club invites you to bring a sack lunch and join the discussion at the Camdenton Library on Wednesday, September 28, at noon. The Big Niangua Book Club meets on the fourth Wednesday of each month at noon.
The ebook is available for download from hoopla Digital. Anyone with a valid Camden County Library District library card can sign up for a free hoopla Digital account. Do you need a library card? See what you need to bring with you to sign up for a library card today. Copies of the book are available for checkout at the Camdenton Library.