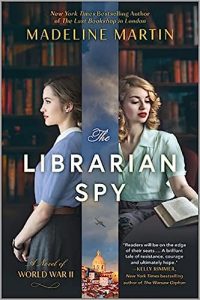 The Librarian Spy by Madeline Martin
Ava thought her job as a librarian at the Library of Congress would mean a quiet, routine existence. But an unexpected offer from the US military has brought her to Lisbon with a new mission: posing as a librarian while working undercover as a spy gathering intelligence.

Meanwhile, in occupied France, Elaine has begun an apprenticeship at a printing press run by members of the Resistance. It's a job usually reserved for men, but in the war, those rules have been forgotten. Yet she knows that the Nazis are searching for the press and its printer in order to silence them.

As the battle in Europe rages, Ava and Elaine find themselves connecting through coded messages and discovering hope in the face of war.
The Big Niangua Book Club will discuss this title on Wednesday, August 23, 2023, at 12:30 pm at the Camdenton Library. The Big Niangua Book Club meets on the fourth Wednesday of each month at 12:30 pm at the Camdenton Library.
Copies of this title are available from: Missouri Evergreen Card Catalog and Missouri Libraries 2 Go & Libby