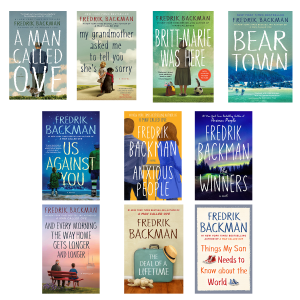 Fredrik Backman is the #1 New York Times bestselling author of A Man Called Ove, My Grandmother Asked Me to Tell You She's Sorry, Britt-Marie Was Here, Us Against You, and Anxious People, as well as two novellas and one work of nonfiction. His books have been published in more than forty countries. He lives in Stockholm, Sweden, with his wife and two children. (From Fredrik Backman's website: Fredrik Backman Books).
For our discussion in September, the Overbooked Book Club invites you to read any title by Fredrik Backman. The Overbooked Book Club will meet on Wednesday, September 20, 2023, at 2 pm at the Climax Springs Library. The Overbooked Book Club meets on the third Wednesday of each month at 2 pm.
Fredrik Backman titles are available from the following sources: Missouri Evergreen Card Catalog and Missouri Libraries 2 Go & Libby.