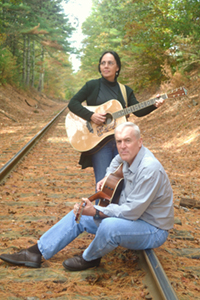 Andy & Judy: New England Folk Music – Camdenton
Andy & Judy are a Boston area folk duo who regularly perform at libraries, coffeehouses, and concert venues throughout the Northeast, Mid-Atlantic, Midwest, and Great Lakes regions.
Their original, lyric-driven songs feature close harmonies blending Judy's evocative alto and Andy's rich baritone.
Beginning instrumentally with a classic fold guitar base, Andy & Judy have deepened their sound through the addition of mandolin, banjo, piano, harmonica, ukulele, percussion, and more! Even though their songwriting style has its roots firmly planted in traditional and folk music, the influences of country, gospel, blues, and bluegrass can be heard in their songs.
This duo has released 7 CDs of original music – Riverbend (2012), Dragonfly (2014), Follow Your Dreams (2015), This Old Town (2017), Reflections (2018), This Road (2020), and Let Us Sing (2021).
Andy & Judy will be performing a 1-hour, in-person concert at the Camdenton Library. You can learn more about Andy & Judy by visiting them at https://andyjudysing.com/.