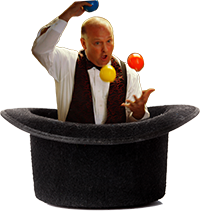 Mid-MO Magic with Gerry Tritz – Sunrise Beach
Gerry Tritz of Mid-MO Magic will be entertaining us with magic, comedy, and illusions!
About Gerry:
After wasting the first couple of decades of his life, Gerry Tritz graduated from college and promptly took up juggling and magic. Now, he travels across mid-Missouri, specializing in amusing and amazing the young and the young at heart with his unique blend of magic, juggling, and comedy. He has performed hundreds of shows over the past 20 years, ranging from birthday parties to his own theater show and repeat performances at the Missouri Governor's Mansion. He can be found at MidMoMagicShow.com or facebook.com/MidMoMagicShow.