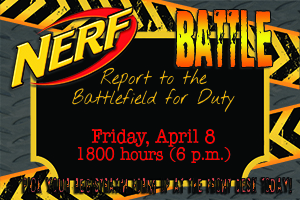 After Hours: NERF Battle
It's back! NERF Battle at the Camdenton Library!
Our first After Hours Teen (Ages 12-18) NERF Battle in two years will take place on Friday, April 8, 2022, from 6 p.m. – 9 p.m. Registration forms must be in by Tuesday, April 5 2022. This program is on a first-come, first-serve basis. The first 25 forms returned will be called on Thursday, April 7, 2022.
Please pick up your registration form at any of our branches or print it out: NERF Battle Registration Form.
We will have pizza, soda, and water available for a snack.
Rules of Conduct:
Eye protection (i.e., goggles) is a MUST; we will provide goggles for everyone.
Stay within the public areas of the library.
NO shooting your opponent within 10 feet of each other
NO shooting the computer monitors
NO shooting the ceiling fans in the main part of the library
NO drinking from the fountain in the main part of the library
NO climbing the shelving units
NO standing on top of the furniture; you may crawl under some of the furniture.
NO open-toe shoes.
NO hitting, pinching, biting, kicking, pushing; if you can't do it in gym class, you can't do it here.
NO pushing on the shelving units
Pants are required, NO shorts.
Be sure to put your name or initials on your ammunition and guns; we aren't responsible for lost or stolen property. Not all of your NERF darts will be returned on the same night. They get lost in the shelves, lights, and behind furniture.