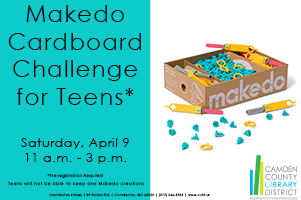 National Library Week – Cardboard Challenge
What do cardboard, your imagination, and a plan have in common?
The Cardboard Challenge at the Camdenton Library, that's what!
We encourage teens between the ages of 12 and 18 to sign up for this fun event at the Camdenton Library. We have borrowed a Cardboard Challenge Engineering Kit from the Missouri State Library and can't wait to see what attendees to the event will build.
As this is a borrowed kit, teens cannot take their creations home; however, they will be on display at the Camdenton Library for two weeks before the kit is sent to another library in the state.
How will the program work?
Teens who successfully register for the event will be divided into teams, depending on the number of registrations we have and will have three hours to design and build a master creation.
We will provide the tools and cardboard. Check out this Makedo kit from Discover to see a similar kit to start getting ideas.
Need some inspiration? Check out these Caine's arcade videos: