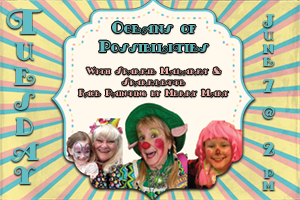 Sparkie Malarky, Sparklette, & Merry Mary at the Camdenton Library
Join us at the Camdenton Library for some fun featuring Sparkie Malarky and Sparklette with face painting by Merry Mary. Sparkie and Sparklette will be performing magic, puppetry, a book rap, asking for audience participation, and music.
Sparkie Malarkey, aka Jackie Newton, has been a fan of the Camdenton Library for forty years! Newton is a 42-year educator, retired Reading Specialist from Camdenton schools, and a professor for Central Methodist University. She is a seasoned entertainer, world traveler, performer, author, actor, and producer of murder mystery dinner theater and was just elected as the President-Elect of the World Clown Association. She will serve as the top leader during the years 2023-25. This organization boasts over 1200 members worldwide, including Ringling master clowns, Cirque de Soleil performers, and its newest member, actor and filmmaker David Arquette as Bozo. While Newton now travels and performs worldwide, she continues to call the Lake of the Ozarks her home. Newton's granddaughter is a full-fledged Joey, meaning that she is an advanced clown at nine years of age. Eva Powers/Sparklette/Baby Buttons was trained by the world's great clowns and has won medals in the area of performance. Merry Mary is the Lake of the Ozark's own professional face painter!