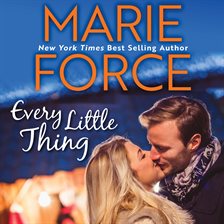 Hoopla Bonus Borrows are back for May! Throughout the month, over 200 titles are available at Hoopla without using any of your monthly borrows. Check back every day in May for recommendations from the Bonus Borrows collection.
Every Little Thing by Marie Force and Read by Joan Delaware
Grayson Coleman has just moved home to Butler, Vermont, after spending years working for a high-powered law firm in Boston. He's looking for a simpler, less stressful existence in the sleepy little mountain town where he grew up with his siblings and Abbott cousins. 
Once the holidays are over, he plans to hang out a shingle and open a new general law practice. After helping to raise his seven younger siblings, the last thing on his mind is a family of his own. Emma Mulvaney is enjoying a break from her reality as a busy single mother in New York City, while she and her adorable daughter, Simone, spend the holidays in Vermont with Emma's sister, Lucy, and Lucy's future in-laws, the Abbotts. After meeting Abbott cousin Grayson Coleman and talking to him for hours, Emma is nervous and excited to have dinner alone with him after sharing her deepest, most personal secrets. Will that first night be the start of something new for the jaded lawyer and the selfless single mom, or will a holiday-week flirtation turn into something much bigger than either of them ever expected? 
Marie Force's Butler, Vermont Series on Missouri Evergreen
Marie Force's Butler, Vermont Series on OverDrive/Libby