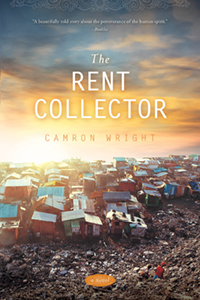 The Rent Collector by Camron Wright
Survival for Ki Lim and ZSan Ly is a daily battle at tStung Meanchey, the largest municipal waste dump in all of Cambodia. They make their living scavenging recyclables from the trash. Life would be hard enough without the worry for their chronically ill child, Nisay, and the added expense of medicines that are not working. Just when things seem worst, San Ly learns a secret about the ill-tempered rent collector who comes demanding money — a secret that sets in motion a tide that will change the life of everyone it sweeps past. The Rent Collector is a story of hope, of one woman's journey to save her son and another woman's chance at redemption. It demonstrates that even in a dump in Cambodia — perhaps especially in a dump in Cambodia — everyone deserves a second chance.
We invite you to join the Hooked on Books book club to discuss this title on Thursday, July 21, at 11 am at the Osage Beach Library. Hooked on Books meets on the third Thursday of each month at 11 am.
The ebook version is available through Libby. Or you can borrow the ebook from hoopla Digital. Anyone with a valid Camden County Library District library card can sign up for a free Libby or hoopla Digital account. Do you need a library card? See what you need to bring with you to apply for a card today. Copies of the book and audiobook are available for checkout at the Osage Beach Library.