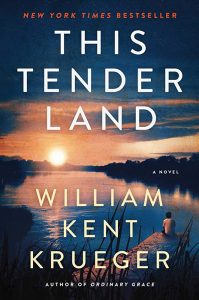 This Tender Land by William Kent Krueger is the unforgettable story of four orphans who travel the Mississippi River on a life-changing odyssey during the Great Depression.
In the summer of 1932, on Minnesota's Gilead River banks, Odie O'Banion is an orphan confined to the Lincoln Indian Training School. In this pitiless place, his lively nature earns him the superintendent's wrath. Forced to flee after committing a terrible crime, he and his brother Albert, their best friend, Mose, and a brokenhearted little girl named Emmy steal away in a canoe, heading for the mighty Mississippi and a place to call their own.
Throughout one summer, these four orphans journey into the unknown and cross paths with others who are adrift, from struggling farmers and traveling faith healers to displaced families and lost souls of all kinds. With the feel of a modern classic, This Tender Land is an enthralling, big-hearted epic that shows how the magnificent American landscape connects us all, haunts our dreams and makes us whole.
Hooked on Books Book Club invites you to join the discussion at the Osage Beach Library on Thursday, March 16, at 11 am. The Hooked on Books book club meets on the third Thursday of each month at 11 am.
Borrow the book via our card catalog or from Missouri Libraries 2 Go. 
Would you happen to need a library card? Please take a look at what you need to bring with you to get a library card.