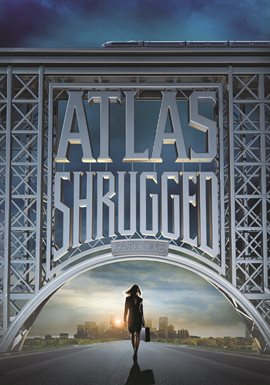 Hoopla Bonus Borrows are back for May! Throughout the month, over 200 titles are available at Hoopla without using any of your monthly borrows. Check back every day in May for recommendations from the Bonus Borrows collection.
Atlas Shrugged (Movie) – Part 1 (2011)
Cast: Taylor Schilling, Grant Bowler, Matthew Marsden, Edi Gathegi, Jsu Garcia, Graham Beckel, Jon Polito, Patrick Fischler, Rebecca Wisocky, Michael Lerner
Part of the Atlas Shrugged Series
Railroad executive Dagny Taggart and steel mogul Henry Rearden form an alliance to fight the increasingly authoritarian government of the United States.
The year is 2016, and America is on the verge of economic disaster. The greatest citizens are being targeted, and dark forces are working to bring about America's salvation lies with Dagny Taggart and Henry Rearden, rugged individualists whose bold ideas may have the power to spark a revolution and reclaim the American dream.
Borrow the book or audiobook from Missouri Evergreen