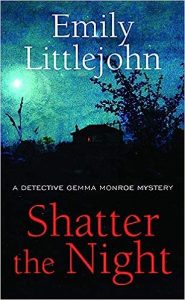 Shatter the Night by Emily Littlejohn
Book #4 of 4 of the Detective Gemma Monroe Series
It's Halloween night in Cedar Valley. During the town's annual festival, Detective Gemma Monroe takes a break from trick or treating with her family to visit an old family friend, retired Judge Caleb Montgomery, at his law office. To Gemma's surprise, Caleb seems worried—haunted, even—and confides in her that he's been receiving anonymous threats. Shortly after, as Gemma strolls back to her car, an explosion at Caleb's office shatters the night.

Reeling from the shock, Gemma and her team begin eliminating suspects and motives, but more keep appearing in their place, and soon another man is killed. Her investigation takes her from a chilling encounter with a convicted murderer at the Belle Vista Penitentiary, to the gilded rooms of the renovated Shotgun Playhouse, where Shakespeare's cursed play Macbeth is set to open in a few weeks.

Yet the most disturbing of all is when Gemma realizes that similar murders have happened before. There is a copycat killer at play, and if Gemma can't stop him, he'll carry out his final, deadly act.
The 1st Reads Book Club will discuss this title on Wednesday, November 1, 2023, at 2 pm at the Macks Creek Library. The 1st Read Book Club meets on the first Wednesday of each month at 2 pm at the Macks Creek Library.
Copies of this title are available from: Missouri Evergreen Card Catalog and hoopla Digital