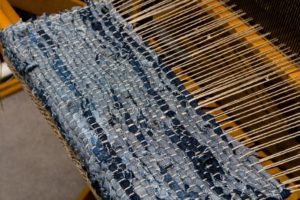 Even before recycling and reusing became a household name, our ancestors were the champs at this.
For example, do you have clothes that can't be mended or darned any longer?
Don't throw them out!
Instead, cut them into strips, sew the ends of the strips together, and roll them into a ball, similar to a yarn ball. You can now use those cut, sewn, and rolled strips of fabric to make rugs or even placemats.
Many rag rugs were created by coiling the strips of fabric and stitching the coils together. Another technique allowed the rug maker to braid the fabric strips before coiling, adding strength and texture. Or you could use a loom to weave the strips together.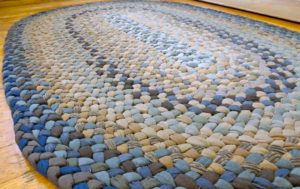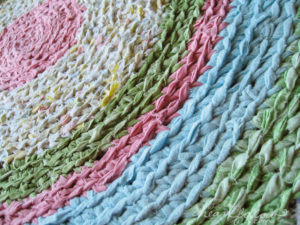 At different times, the popularity of making rag rugs has waxed and waned. Especially since rag rug making was seen as something that the poorer classes would produce, thus the history of rag rug making is lacking. With this in mind, little is known about rag rug making and techniques used before the 1800s. Then they experienced a period of popularity in the 1890s – 1910, and then the art fell out of favor in the 1920s. Then in the 1930s, during the Great Depression, rag rug making found its way back into many homes. It then became a lost art until the 1980s where it again made another comeback.