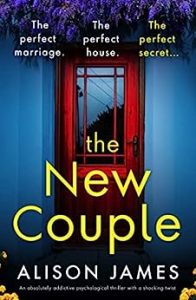 The New Couple by Alison James
The perfect marriage. The perfect house. The perfect secret…
As I step through the cherry-red door of my new home, I know I should feel like the luckiest woman alive. I have a handsome husband, a beautiful daughter, and now the house of my dreams. And to everyone else, my life looks perfect…
When the neighbors stop by to welcome us, I tell them my name is Stephanie Hamlin and, under the watchful gaze of my husband Richard, I introduce him and our curly-haired little girl Poppy. I smile as wide as I can and desperately hope I can fit in to this exclusive place with its pretty communal gardens. Because I've risked everything to be here.
Behind closed doors I try to relax, to unwind in the huge clawfoot bath and forget my complicated past. It's hard being the new couple on the street when you've got secrets.
Because the truth is, my charming husband isn't really my husband.
And I'm not Stephanie Hamlin…
The Stoutland Cookie Bookies Book Club will discuss this title on Thursday, August 17, 2023, at 6:15 pm at the Stoutland Library. The Stoutland Cookie Bookies Book meets on the third Thursday of the month at 6:15 pm.
Copies of this book are available from: Missouri Evergreen Card Catalog