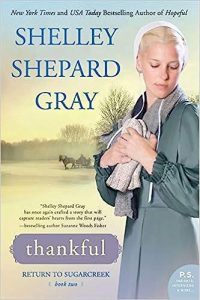 Thankful by Shelley Shepard Gray
Book #2 of 3 in the Return to Sugarcreek Series
Christina Kempf has always known that God chose Aden Reese to be her husband. As children, he was there to save her when she fell through the ice, and he's been by her side ever since. After his parents died in a car accident ten years ago, the Kempfs raised Aden as one of their own, and everyone sees Aden and Christina as brother and sister. But Christina has never given up hope that Aden will one day ask her to be his wife.
Aden always planned to court Christina. But losing his mother and father changed everything—except his love for her. Her parents generously welcomed him into their home and treated him like a son. He can't betray their kindness by admitting his feelings for the girl who is like a sister . . . yet so much more.
Pressured by her parents to court, Christina begins to accept the attentions of Sugarcreek's young men, and now, Aden must make a choice. Will he stand by and watch the love of his life slip away? Or will he risk losing the love and trust of the family he holds dear to tell Christina how he truly feels?
The 1st Reads Book Club will discuss this title on Wednesday, December 6, 2023, at 2 pm at the Macks Creek Library. The 1st Read Book Club meets on the first Wednesday of each month at 2 pm at the Macks Creek Library.
Copies of this title are available from: Missouri Evergreen Card Catalog