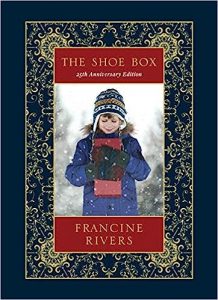 The Shoe Box by Francine Rivers
This tender Christmas novella tells the story of Timmy O'Neil, a foster child with a very mysterious shoe box. At first glance, it's nothing special—just an ordinary box with a red lid and the words Running Shoes printed on the side.

But Timmy carries it with him wherever he goes, and when people ask him what's inside, he smiles and says, "Just things."

As Timmy settles into his new, loving home, he remains unwilling to share the secrets of his shoe box . . . until the beauty of the church Nativity pageant inspires him to open his heart and give the most precious gift of all.
The Christian Fiction Book Club will discuss this title on Wednesday, November 8, 2023, at 10 am at the Camdenton Library. The Christian Fiction Book Club meets at the Camdenton Library on the second Wednesday of each month at 10 am.
Copies of this title are available from: Missouri Evergreen Card Catalog, Missouri Libraries 2 Go & Libby, and hoopla Digital