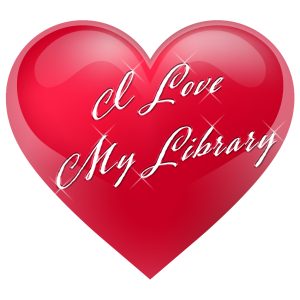 Many think that libraries are just warehouses for books, and while some may see our libraries as antiquated and have no value now that they have the world at their fingertips thanks to the Internet, that isn't the case. Libraries are full of amazing resources and opportunities – that are either free or available for a small fee.
Some libraries offer different classes on a wide array of subjects, while some have historical artifacts on display or can loan passes to museums, music venues, zoos, and more. It is always best to contact your local library to see what they have to offer in your area.
What does the Camden County Library District have to offer that gives you a reason to love us all year long?
Let us count the ways…
#14. Let's Get Social
Libraries provide many opportunities to make new friends, meet old, and try something new. Each of our branches has book clubs that are open to everyone. We also have several knitting, crocheting, and DIY craft events to participate in every month. By attending these events/programs, you are supporting your local library, but did you know that many receive funding based on the number of people who use the library each year? Most Camden County Library District classes provide the necessary materials for participation, but you are welcome to bring your own supplies. When we announce the program, we usually list if you need to bring your own supplies. We also offer game nights for teens and adults, where we play board games, card games, and video games (teens). The library is one of the few places left in society that you can enjoy for free.
#13. Meeting Rooms & Spaces
Did you know that most can use our meeting rooms for free? We do charge if you are using the spaces for monetary purposes. These rooms are perfect for businesses needing a central location for meetings, groups needing to work on homework assignments, homeschool co-ops, or presentations.
#12. Wi-Fi, Public Computers, and Business Services
All of our branches offer free Wi-Fi for your mobile devices. Don't own a mobile device? Each of our branches has computers available for the public to use. If you are visiting the area and need to use one of our computers, we charge $1 for 60 minutes. If you need more time than that, please speak with one of our friendly staff, and we should be able to accommodate you. Are you looking for other business services? We have a copy machine available, printers, fax machines, scanning capabilities, notaries, and a large format printer.
#11. Help for Job Seekers
Our libraries offer many resources for those seeking employment. We have you covered, whether updating your resume or taking practice tests for your GED, ASVAB, PRAXIS, or others with LearningExpress. Or maybe you are a veteran and need help converting your military experience into a resume to fit a civilian job. We offer VetNow through BrainFuse, which provides live assistance for you and your family.
#10. Online Subscription Services
We offer various subscription services that are accessible for our cardholders to use. For example, why would you pay for a subscription to any or all of the five major daily newspapers when your library card gives you access? Digging into your family history? We have Ancestry Library Edition (in-library use only), HeritageQuest, and many links to genealogy resources. And if you get stuck? We offer a genealogy workshop, Discover Your Roots, at the Camdenton Library that helps you dig deeper, climb walls, and teach you how to use both Ancestry and HeritageQuest. As mentioned above, LearningExpress not only has practice tests, but you can get help with your computer skills, classwork & homework for high school and college students, or work on your core skills. Do you want to know what else we have to offer? Check out our Digital Library.
#9. Creation Station – Our MakerSpace
Did you know that the Camdenton Library has an area where you can explore your creative side? We have 3D printers, a CNC machine, videography equipment, musical instruments, and more! The only fee we charge is for the 3D printer, and the cost of $.15/linear meter covers the cost of the filament. No worries, we won't make you do the math when figuring out how much your 3D print will cost. Our software can calculate that.
#8. Programs and Performances
We offer many programs and performances all year long. Some are for kids, especially in the summer, teens, adults, and the whole family. These include storytimes, Summer Reading Challenge performers, After Hours Events, DIY craft projects, family movie nights, author talks/visits, and more. Always check our website, social media sites, and quarterly magazine, Between the Pages, for the latest event dates and times.
#7. Borrow Magazines/Read Newspapers
Our branches offer various local newspapers and magazines for patrons to read in-house, and most magazines are available for checkout. Did you know that you can read magazines on your phone, tablet, or browser? Missouri Libraries 2 Go has digital issues of magazines that you can download and read from your browser or in the Libby app. We mentioned earlier that your library card gives you access to five major daily newspapers, The New York Times, The Wall Street Journal, Washington Post, Chicago Tribune, and The Los Angeles Times.
#6. Borrow Games
Did you know that you don't have to spend a lot of money on games when you can borrow them from the library? We have games available for checkout for the following systems:
We also have game consoles available for checkout:
#5. Specialty Items
In addition to video games and consoles, did you know that you can check out a wide array of specialty items? Do you have a boat but need more life jackets for when the family comes down? Don't rush out and buy them. Borrow them! We have sizes for adults and children available. Do you need to make a special cake, but the price of the cake pan is outrageous and will only be used once? Don't buy it. Borrow it! Or maybe you need to do a little unwinding? Check out one of our many jigsaw puzzles. You don't have room to store a sewing machine? Don't worry. We have one of those, too. Or maybe you homeschool your kiddos? We have several kits that can help supplement your curriculum.
#4. Movies
Skip RedBox and the late fees with free movie rentals from the library! If you were to search our card catalog for movies, you would see that we have over 5,000 items cataloged. Add in all of the Evergreen member libraries, and your possibilities are practically unlimited. And don't forget that you can stream movies and music from hoopla Digital.
#3. Borrow Books
Libraries are known far and wide for their extensive book collections. Essentially, libraries are the ultimate TBRL pile. Not only can you borrow classics from authors like Jane Austen, Hemingway, Steinbeck, and the Brontes, but you can check out popular fiction, non-fiction, biographies, graphic novels, picture books, and audiobooks. But we have Missouri Libraries 2 Go, Libby, hoopla Digital, and EBSCO books for patrons to borrow digital items.
Are you having difficulties finding the items you are looking for? That's okay. We have several options when it comes to locating items. One of our first search avenues includes reaching out to our Evergreen consortium libraries. Within our card catalog, we can search over 50 Missouri Libraries. Our second search avenue requires our Inter-Library Loan Service. It reaches out to other Missouri Libraries and searches libraries in Arkansas, Oklahoma, Kansas, Texas, and Colorado.
#2. No Late Fees
More and more libraries are moving to remove late fees. Camden County Library District has been late fine-free for several years now. The only time patrons will pay a fee, aside from some of our business fees or 3D prints, is if an item is damaged or lost.
#1. Our Staff
The best reason to love us all year long? Our staff! We are here to help you to the best of our abilities. Whether it's learning how to navigate your new device, what digital resources we have, or looking for something to read, we are here and waiting for you to ask.
Bonus:
According to the American Library Association, Americans check out eight books per person per year on average. And spend $39.96 a year for the public library – the average cost of one hardcover book.
If the average American checked out eight books priced at $39.96 from their local public library, they would save $295.68. Want to see what your savings would be if you also attended programs and borrowed adult novels, audiobooks, and children's books? Head over to the I Love Libraries website and check out their savings calculator there. You will be amazed by what you can save with one trip to the library.
Or, the next time you visit our branches, check out the bottom of your receipt and see how much you saved on your visit. This information only shows up on the receipts you receive from the front desk and not our self-checkout machines at this time.